Research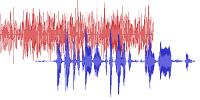 We study various aspects of audio and speech science, including speech recognition and audio signal processing. Prof. Obuchi has strong expertise in human speech processing, but the research field of our group is expanding to other sound-related sciences. The research methodologies include not only theories and algorithms, but also applicational approaches such as developing smartphone apps, games, and multimedia contents. If you are interested in investigating the essence of sound, improving people's life by sound, or solving the mystery of sound by the computer, please come and see our laboratory.
---
Project
Sound x Human
This is the project for seniors (graduation research), that focuses on the relationship between sounds and humans. For more information, visit the project site.
---
Members
Faculty

Yasunari OBUCHI (Professor)
email:

Born in 1966. He received the B.S. degree and the M.S. degree in physics in 1988 and 1990, and the Ph.D. in information science and technology in 2006, all from the University of Tokyo. He worked at Central Research Laboratory and Advanced Research Laboratory, Hitachi, Ltd,. from 1992 to 2015. During his career in Hitachi, he was also a Visiting Scholar at Carnegie Mellon University from 2002 to 2003, a Visiting Researcher at Waseda University from 2005 to 2010, and a manager at Clarion Co, Ltd. from 2013 to 2015. From 2015, he has been working as a professor at Tokyo Unversity of Technology.
---

Keiko OCHI (Assistant Professor)
---
Graduate Students (MS)
D. Fukunaga
Y. Ono
H. Yajima
L. Meinicke
H. Matsui
T. Watanabe
Class of FY2018
S. Nozaki
K. Kikuchi
J. Yamaguchi
M. Asakawa
K. Inoue
H. Udagawa
N. Kinoshita
D. Sazuka
Y. Shoda
K. Suzuki
M. Takada
N. Tsuru
K. Hasegawa
K. Matsunaga
Y. Mamada
S. Murayama
S. Yamagishi
S. Ichikawa
---
Alumni
FY2018(MS)

T. Otani

FY2018

S. Horiuchi
R. Ito
H. Enomoto
T. Kamijima
H. Kanbara
K. Kudo
T. Sasaki
Y. Sasaki
T. Shinbo
R. Sugimoto
I. Nomura
K. Hasegawa
K. Hanyuda
W. Yokota

FY2017

S. Amano
T. Ichikawa
H. Kanematsu
M. Kimura
K. Sato
S. Takahashi
T. Nakata
R. Hayashi
S. Fukushima
T. Hori
Y. Magami
K. Maruyama

FY2016(MS)

T. Oishi

FY2016

M. Akimoto
Y. Ono
Y. Kaneko
M. Kanda
D. Sato
S. Takamaki
M. Takeyama
K. Tsuzuki
F. Tokita
T. Hagino
A. Furukawa
Y. Murakami
T. Yamaguchi
M. Yokoyama

FY2015(MS)

K. Takashima
E. Kamal
---
Publications
---
Access
Prof. Obuchi's office is #512 of Kenkyuto-C (research bldg. C). You can find Kenkyuto-C in Campus Map, though it's written in Japanese. The access to the Hachioji Campus is shown here.