Research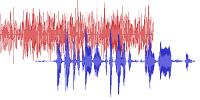 We study various aspects of audio and speech science, including speech recognition and audio signal processing. Prof. Obuchi has strong expertise in human speech processing, but the research field of our group is expanding to other sound-related sciences. The research methodologies includes not only theories and algorithms, but also applicational approaches such as developing smartphone apps, games, multimedia contents. If you are interested in investigating the essence of sound, improving people's life by sound, or solving the mystery of sound by the computer, please come and see our laboratory.
---
Project
Sound x Human
This is the project for seniors (graduation research), that focuses on the relationship between sounds and humans. For more information, visit the project site.
---
Members
Faculty

Yasunari OBUCHI (Professor)
email:

Born in 1966. He received the B.S. degree and the M.S. degree in physics in 1988 and 1990, and the Ph.D. in information science and technology in 2006, all from the University of Tokyo. He worked at Central Research Laboratory and Advanced Research Laboratory, Hitachi, Ltd,. from 1992 to 2015. During his career in Hitachi, he was also a Visiting Scholar at Carnegie Mellon University from 2002 to 2003, a Visiting Researcher at Waseda University from 2005 to 2010, and a manager at Clarion Co, Ltd. from 2013 to 2015. From 2015, he has been working as a professor at Tokyo Unversity of Technology.
---

Keiko OCHI (Assistant Professor)
---
Graduate Students (MS)
T. Otani
D. Fukunaga
Y. Ono
H. Yajima
Class of FY2017
R. Ito
H. Enomoto
T. Kamijima
H. Kanbara
K. Kudo
T. Sasaki
Y. Sasaki
T. Shinbo
R. Sugimoto
S. Nozaki
I. Nomura
K. Hasegawa
K. Hanyuda
L. Meinicke
H. Matsui
W. Yokota
T. Watanabe
K. Kikuchi
J. Yamaguchi
---
Alumni
FY2018

S. Horiuchi

FY2017

S. Amano
T. Ichikawa
H. Kanematsu
M. Kimura
K. Sato
S. Takahashi
T. Nakata
R. Hayashi
S. Fukushima
T. Hori
Y. Magami
K. Maruyama

FY2016(MS)

T. Oishi

FY2016

M. Akimoto
Y. Ono
Y. Kaneko
M. Kanda
D. Sato
S. Takamaki
M. Takeyama
K. Tsuzuki
F. Tokita
T. Hagino
A. Furukawa
Y. Murakami
T. Yamaguchi
M. Yokoyama

FY2015(MS)

K. Takashima
E. Kamal
---
Publications
Journal papers
Peer-reviewed conference papers
T. Otani and Y. Obuchi
"Voice controllable multimodal performance system"
14th International Conference of Asia Digital Art and Design Association, Gwangju, Korea (2017)
Y. Obuchi
"Personalized Quantification of Voice Attractiveness in Multidimensional Merit Space"
Interspeech, Stockholm, Sweden (2017)
M. Hamamura, S. Takamaki, and Y. Obuchi
"Relationship between the Use of Portable Audio Devices and Taking Notice of the Approach Informing Sound of Quiet Vehicles"
5th Joint Meeting of the Acoustical Society of America and the Acoustical Society of Japan, Honolulu, HI, USA (2016)
Y. Obuchi
"Framewise Speech-Nonspeech Classification by Neural Networks for Voice Activity Detection with Statistical Noise Suppression"
Proc. IEEE International Conference on Acoustics, Speech and Signal Processing, Shanghai, China (2016)
Peer-reviewed domestic meetings (including those written in Japanese)
横田渉, 大淵康成
「機械学習を用いた3種類の硬貨落下音の分析」
NICOGRAPH2017, P-7 (2017)
福永大輝, 大淵康成
「リズムアクションゲームにおけるキー音の音響的特徴分析」
NICOGRAPH2017, P-12 (2017)
大石貴之, 大淵康成, 佐々木和郎
「ゲームのキャラクターの話声をもとにした歌声合成手法の分析」
NICOGRAPH2016, S-8 (2016)
A. Alharbi, K. Sasaki, and Y. Obuchi
"Interface Design and Time Synchronization Function of Second Screen Application for TV Audience"
NICOGRAPH2016, P-1 (2016)
横山万緑, 大淵康成
「マルチメディアアートのための天文データの可聴化と可視化」
NICOGRAPH2016, P-9 (2016)
大谷泰斗, 横田渉, 大淵康成
「機械学習を用いた『いらっしゃいませ』の好感度の音声解析」
NICOGRAPH2016, P-22 (2016)
Domestic meetings (including those written in Japanese)
矢島春香,大淵康成,越智景子
「サラウンド音響と動画像のずれに対する許容度の検証」
第5回 ADADA Japan 学術大会, P-12 (2018)
堀内将生,越智景子,大淵康成
「聴取者の感情を可視化する音楽プレーヤーの開発」
第5回 ADADA Japan 学術大会, P-15 (2018)
斉礼,佐々木和郎,大淵康成
「AR技術に基づく漢服の教育的演出に関する提案」
日本感性工学会春季大会, WPI-28 (2018)
斉礼,佐々木和郎,大淵康成
「AR技術に基づく漢服の演出に関する提案」
映像表現・芸術科学フォーラム, 8 (2018)
福永大輝,大淵康成
「リズムアクションゲームにおけるキー音の自動推定」
映像表現・芸術科学フォーラム, 23 (2018)
室崎之典,小野龍一,斎藤佑祈,大淵康成,羽田久一
「ドローンの羽音を利用した個体識別」
情報処理学会研究報告, 2018-EC-47-8 (2018)
小野龍一,室崎之典,斉藤佑祈,中野亜希人,大淵康成,羽田久一
「ドローンの羽音を利用して個体識別及び位置情報を検出するシステムの提案」
エンタテインメントコンピューティングシンポジウム (2017)
高巻昌太郎,濱村真理子,大淵康成
「音楽聴取中の歩行者に対する自動車接近警告音の認知性」
日本音響学会春季研究発表会, 1-4-6 (2017)
横田渉,大淵康成
「機械学習による硬貨落下音の分析」
映像表現・芸術科学フォーラム, 75 (2017)
山口知子,大淵康成
「SD法を用いた主観的表現からの恐竜の声の推定」
映像表現・芸術科学フォーラム, 78 (2017)
大谷泰斗,大淵康成
「音声入力によりコントロール可能なマルチモーダル演奏システム」
映像表現・芸術科学フォーラム, 81 (2017)
Emad Kamal, Yasunari Obuchi, and Kazuo Sasaki
"Development of Arabic Learning Application for Smartphones Using Voice Recognition"
IEICE 2016 General meeting, Students poster session, ISS-P-120 (2016)
高島景載, 佐々木和郎, 大淵康成
「地域特有の無形文化財を対象に現場の環境音に注目した3D空間再現」
23rd Workshop on Interactive Systems and Software (WISS 2015), 1-R-12 (2015)
---
Access
Prof. Obuchi's office is #512 of Kenkyuto-C (research bldg. C). You can find Kenkyuto-C in Campus Map, though it's written in Japanese. The access to the Hachioji Campus is shown here.